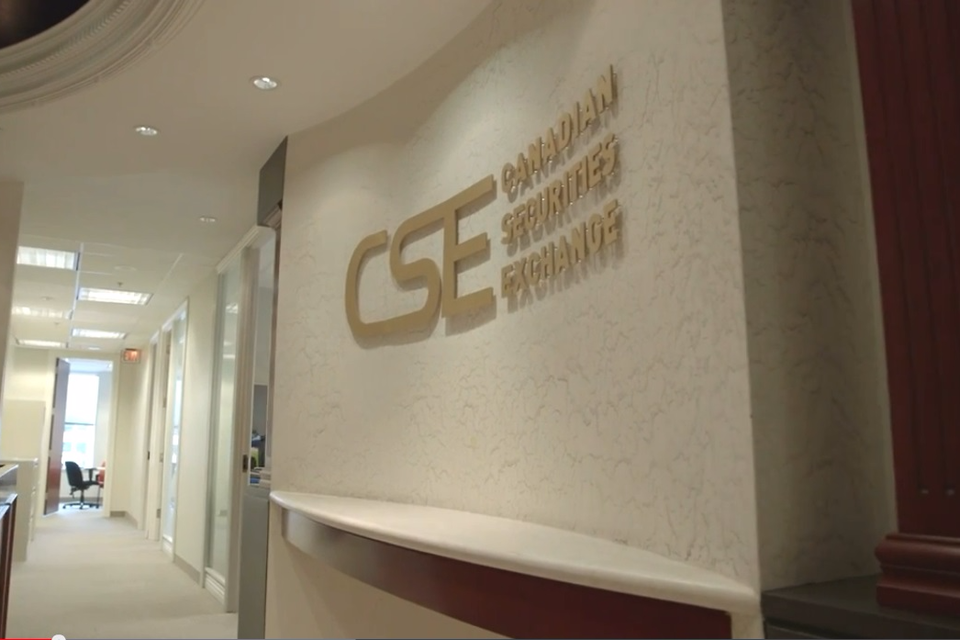 The CSE Composite Index launched back in February of 2015, and has had some notable changes over time. Moving from a very mining-heavy index to now a very cannabis-heavy index, the CSE Composite Index can be a great indicator of the overall strength of the Canadian marijuana space.
Related:S&P Adds Cannabis Company to the S&P/TSX SmallCap Index
As with any index, the component companies change over time. In order for a company to qualify for inclusion in the CSE Composite Index, first and foremost the company must be listed on the CSE. Beyond the listing requirement, companies must have a minimum market cap. of $5 million CAD. Companies get removed from the index if their market cap. goes below $4 million CAD at each quarterly index re-balancing, or will also be removed if the company de-lists from the CSE.
Related:Tetra Bio Pharma to De-List from the CSE
The most recent quarterly re-balancing of the CSE Composite Index resulted in the following 7 cannabis companies being added, effective after the close on Friday, September 15, 2017.
Alliance Growers Corp. (CSE:ACG) (OTC:ALGWF)
Alliance Growers Corp is a diversified cannabis company driven by the company's 'Four Pillars' Organization Plan- cannabis production facilities, a distribution network, consumer products and R&D. Alliance was incorporated in 2014, and has its head office is in Vancouver, BC and its marijuana production facility is in Kelowna, BC.
CannTrust Holdings Inc. (CSE:TRST) (OTC:CNTTF)
Since its inception in 2014, CannTrust has led the Canadian market in producing pharmaceutically standardized cannabis product. As a Canadian federally regulated licensed producer, CannTrust brings more than 40 years of pharmacy and healthcare experience to the medical cannabis industry. CannTrust currently operates a 50,000 square foot state-of-the-art hydroponic facility in Vaughan, Ontario and is upgrading a 430,000 square foot cultivation facility in the Niagara region.
DOJA Cannabis Company Ltd. (CSE:DOJA) (OTC:DJACF)
DOJA is a premium cannabis lifestyle brand that will feature the highest quality handcrafted strains in Canada. DOJA's state-of-the-art ACMPR licensed production facility is located in the heart of British Columbia's picturesque Okanagan Valley. DOJA was founded by the proven entrepreneurial team that started SAXX Underwear.
Friday Night Inc. (CSE:TGIF) (OTC:VPGDF)
Friday Night Inc. owns and controls cannabis and hemp based assets in Las Vegas Nevada. The company owns 91% of Alternative Medicine Association, a licensed medical and adult-use cannabis cultivation and production facility that produces its own line of unique cannabis-based products and manufactures other third-party brands. Infused MFG, also a 91% owned subsidiary, produces hemp-based CBD products crafted with high quality organic ingredients. Friday Night Inc. is focused on strengthening and expanding these operations within and outside of the state.
Liberty Health Sciences Inc. (CSE:LHS) (OTC:SCQBF)
Liberty Health Sciences Inc. is an investor and operator in the medical cannabis market, capitalizing on new and existing opportunities in the United States. Liberty's stringent investment criteria for expansion maximizes returns to shareholders, while focusing on significant near and midterm opportunities. Liberty has an extensive background in highly regulated industries, with expertise in becoming a low-cost producer. Liberty leverages commercial greenhouse knowledge to deliver high quality, clean and safe pharmaceutical-grade marijuana to patients.
PreveCeutical Medical Inc. (CSE:PREV) (OTC:PRVCF)
PreveCeutical aims to be a leader in preventive health sciences and currently has five research and development programs, including: a Sol-gel platform for nose to brain delivery of medical compounds including cannabinoids; dual gene therapy for curative and prevention therapies for diabetes and obesity; Nature Identical peptides for treatment of various ailments; non-addictive analgesic peptides as a replacement to the highly addictive analgesics such asmorphine, fentanyl and oxycodone; and a therapeutic product for treating athletes who suffer from concussions.
Umbral Energy Corp. (CSE:UMB) (OTC:UMBBF)
Umbral Energy Corp. is currently listed as a junior resource issuer having mineral exploration projects in Quebec. Additionally, in efforts to increase shareholder value, Umbral is also involved in other activities, including owning a 75% interest in PhyeinMed Inc, a Health Canada late stage applicant under the ACMPR (Access to Cannabis for Medical Purposes Regulations).
Related:2 Marijuana Stocks Added to the Russell Microcap Index
Aside from the 6 cannabis companies being added to the CSE Composite Index, there was also one marijuana-related company removed from the index. Due to the fact that Tetra Bio Pharma Inc. de-listed from the CSE to move to the TSX Ventures Exchange, it no longer qualifies for inclusion in the CSE Composite Index.
//static.usrfiles.com/html/7e8797_ef9ae8a37fbc551e56bc0bf7b38b342f.html
Be sure to subscribe to one or more of our free e-mail newsletters so yo never miss an important marijuana update. Also, don't forget to connect with The Daily Marijuana Observer on social media via Facebook, Twitter, StockTwits, and Instagram.
D/M/O
News Provided by Daily Marijuana Observer via QuoteMedia