Investment Highlights
Fully integrated medical and adult-use licensee in Nevada
Owns and operates advanced cultivation facilities producing premium quality cannabis and hand-crafted products
White-label production under licensing agreements
Distribution to large dispensary network in Nevada
Verticals in hemp and CBD, from extraction to production of proprietary product line
Strong sales from hemp-based, CBD products to leading dispensaries in California
Growth-focused via asset acquisition in several US states and Canada
At the end of Prohibition. At the forefront of a New Beginning.
1933 Industries' objective is to capitalize on the opportunities resulting from the end of Cannabis Prohibition in Canada and the legalization of the industry in several US States. The Company's vision is to establish a foothold in several distinct parts of the value chain of the North American medical and adult use cannabis industries and replicate its model in other jurisdictions where permitted by law or regulation.
The Opportunity
| | |
| --- | --- |
| U.S. cannabis industry is projected to exceed $50 billion in size by 2026 (Cowen & Co.), driven by the legalization of recreational cannabis in many states | Canada's market is projected to reach C$22.6 billion over the coming years (Deloitte) |
Business strategy
Strengthen and expand current operations
Introduce the Company's brands into new and upcoming markets
Identify targets for acquisition in favorable jurisdictions
Develop and identify products that would benefit from THC and CBD additives.
Ensure proper capitalization to strike where opportunities are available
Current objectives and milestones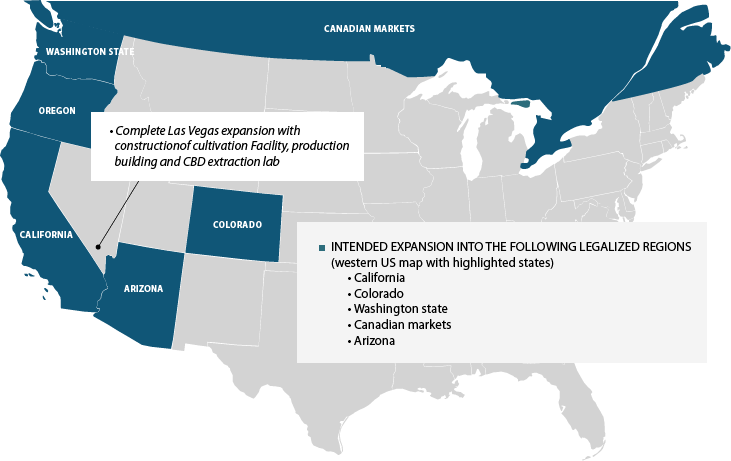 Leading position and first-mover advantage in Las Vegas
First licensed cultivator in Las Vegas
Longest growing history of any medical marijuana establishment in Nevada
Holder of restricted licenses for cultivation and production
Building required infrastructure to rapidly scale up cannabis production
Growing real estate portfolio
Established consumer products
Strong foothold in both legalized cannabis from cannabidiol (CBD) and tetrahydrocannabinol (THC) products
Established brand identity and consumer loyalty with growing sales and margins
Growth of CBD due to its potential therapeutic applications for a variety of conditions
Huge opportunity in hemp-derived CBD and high-quality CBD branded products that have wide appeal
Establishing hemp-processing and CBD extraction vertical with few competitors in the market
Expanding capacity
Moving from 12,000 sq. ft. total cultivation capacity to a state-of-the-art, newly built 67,750 sq. ft. cultivation-only facility
Expanding production space to 12,160 sq. ft.
Establishing a new hemp processing facility to produce CBD extracts for full spectrum oils, distillates and isolates
Cannabis experts. Lifelong entrepreneurs.
Operational expertise with cannabis industry and public market professionals
Leadership includes long-time cultivators, cosmetic industry professionals, regulators, marketers and financiers.
On the path to profitability
Increasing sales revenues during our first year as a public company: